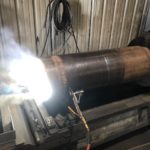 HARDSTEELs chromium carbide overlay pipes are manufactured by hardfacing a carbon steel pipe with an
abrasion resistant material using arc welding processes. Hardfacing overlay products are suitable for
extremely severe abrasive wear and moderate to low impact.
Chromium carbide overlay pipes are designed to handle extreme wear and are
capable of working in the most demanding environments.
Common applications include dredging, slurry pumps, chutes, suction lines, carbon injection, air ducts and troughs.
Chemical Composition
The chemical composition shown below is an undiluted composition. The specific over-lay
composition depends on the number of layers, welding parameters, and cooling process..
| | |
| --- | --- |
| Chemistry | Percent (%)  |
| C | 5.27 |
| Mn | 2.10 |
| P | 0.022 |
| S | 0.016 |
| Si | 0.50 |
| Cr | 26.1/30.0 |
Surface Hardness
Chromium Carbide can be applied with Single, Double or
Triple Pass HARDNESS 58 to 62
Sizes
6″ OD to 18″ OD x10′-0 Long IAt
Pipes can be spliced together for recomended legnths and supplied with square
cut ends, Plate Flanges or 150# Flanges